30 août 2008
Messor capitatus, Chapter 4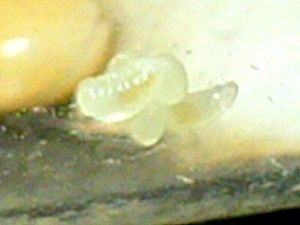 Hi,
I have 2 big larvae! Now, I'm waiting for nice nymphs, to have a great generation of workers! I leave my home for a week, so maybe, at my coming back, I'll have a good surprise.
Kyo
Messor capitatus, Chapter 3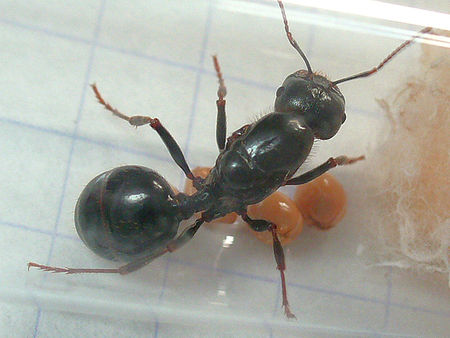 Hi,
The first larva is arrived! She is so small, so I can't take a good picture..
I was waiting for this first larva. I was not sure the queen was mated. I'm happy :)!
Kyo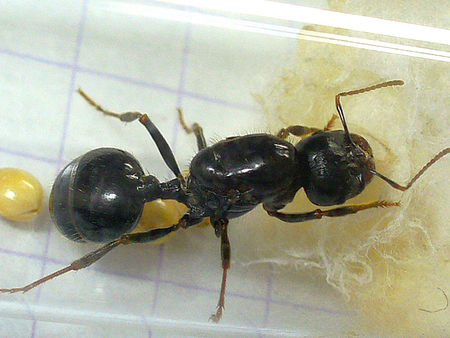 Messor capitatus, Chapter 2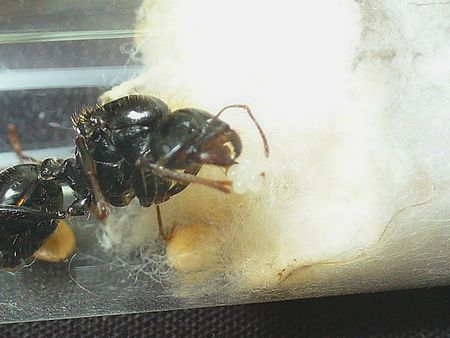 Hi,
So there isn't any larvae yet, but there are new eggs, 5 in fact, and I cant hardly wait until I have larvae. I saw the queen had stopped to eat the cotton.
Kyo
Messor capitatus, Chapter 1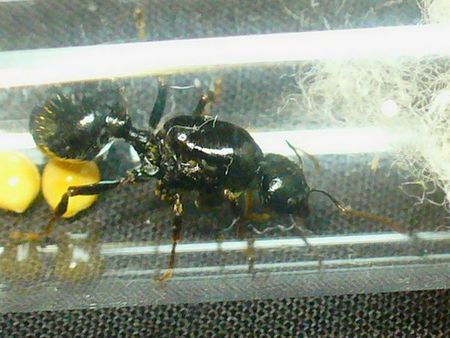 Hi,
She did it! She layed 2 eggs! Let's explain it:
My Messor capitatus's queen is next to my Messor barbarus's queen. I saw 2 eggs from my Messor barbarus's queen, so, I saw the test tube, and behind a seed, I saw 2 eggs! Congratulations!
I'm Happy, because she spent all her time to eat the cotton whereas lay eggs. We can hope to see firsts workers in the next 2 month!
Kyo
Messor capitatus, Introduction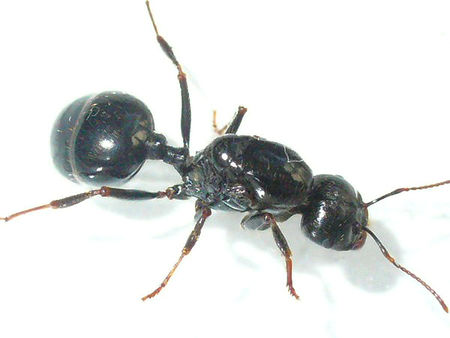 Hi,
I have a queen of Messor capitatus. For the moment, she is alone, and I want her to bases her colony, and I want to have a big colony, because this species is very beautiful, and she has a lot of assets: She is big, and she eats seed. This species has 3 ranks of workers: minor, media, major.
This queen hibernate since november 17th, 2007 and she woke up on january 4th. No eggs.
Kyo
Hello
Hi,
It's Kyomen. With the success of the other blog Ants1, I decided to create the same blog, but translated in English. With my friend, Bibi675, we translate all the blog, with our English, so it's not perfect, but it's better than Google translator :)! Thanks again to Bibi, who helps me for this translation!
Kyo
Ps: The link of the french blog is http://www.ants1.canalblog.com
Ps2: Thanks to Etii :)